2021 DFRobot Halloween Party! Sales and Projects
21, January 2022
---
EVENT 1. HALLOWEEN SALE (10.25~11.1)


From 25th Oct-1st Nov, 30 products on special sales! (LEDs, Arduino boards and interactive sensors)
These products are frequently used in Halloween projects, and we hope they can help you complete your amazing idea!
Special Deal is Limited to 2 Item Per Order


EVENT 2. Sharing Your Finding or DIY, Get Coupon!

From 28th October to 1st November, 5 steps to get a coupon!
1. Follow us @dfrobot_official on twitter.
2. Post your Halloween Project on twitter.
3. Hashtag #halloweenwithdfrobot.
4. Tag @dfrobot_official.
5. Then we will send a $5 coupon to your DFRobot account (minimum payment: $50)


EVENT 3. HALLOWEEN PROJECTS




Any idea about the Halloween party? Let's inspire you!


EVENT 4. New Member Coupons

New Customers who complete the information will get coupons, worth $33 in total.

The coupons for new customers (only available for registered customers, those who checkout through Paypal Express Checkout have to login first).

Note: LattePanda Boards /Raspberry Pi boards /micro:bit Boards /micro: Maqueen /PCB /RPLIDAR /NVIDIA / Sony /Maix / RPLIDAR /ToF products are not available to apply.
Validity: 30 days
EVENT 5. Regular Customer Benefits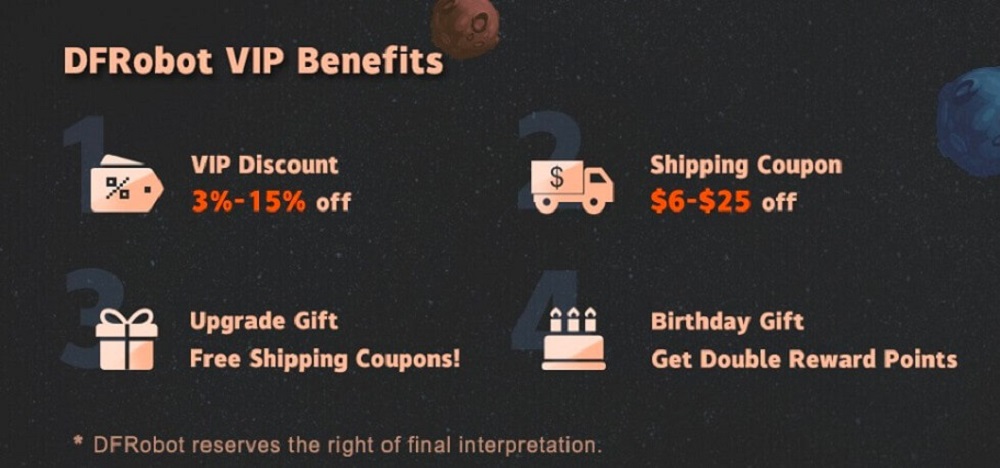 DFRobot Members (regular customers) can enjoy many benefits:

VIP Discount (Up to 15% off)
Free VIP Shipping Coupons
Freight Vouchers
Exclusive Customer Service